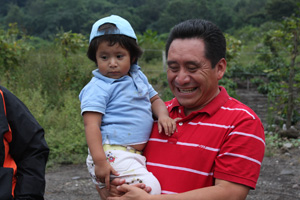 Sunday, was a day to relax a little. We held our own church service. We sang a number of songs and I shared about the difference between being a slave and a servant. It was a great time of reflection for us all. We also were able to travel to the site of the landslide four years ago this week where hundreds of people were killed. Many are still buried here where Pastor Diego is seen here. He's the pastor of the Good Shepherd's Church in Santiago.
On Monday, we opened the clinic at a Baptist Camp. We'll be holding clinics here all week while our supplies last.  This is a great facility for this. The court yard here, was perfect for playing games with the kids. Pastor Diego told us that they had advertised all last week on the local radio station. We don't know how many people will be able to be treated, but we're hoping we'll be able to treat as many as possible.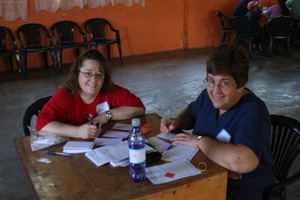 Judy Hopp was the first person people saw when they walked into the clinic. She would give them a number and would wait in the waiting area where their triage would be done.  This is where most of the waiting would be done. Many of these people would come as family units. We also had a few police officers visit the clinic. We thought perhaps they were looking for bribes, but they only wanted a check-up.
Their vital signs would be taken in two staging areas. They would take temperature, blood pressure, pulse, the nurses would listen to their lungs  and through interpreters tell the nurses about their ailments. This was difficult because we needed two translations — from English to Spanish, then from Spanish to the local Mayan dialect. Then it would have to be translated in the other direction — Mayan to Spanish, then Spanish to English.
From there, they would go to another waiting area where they would learn how to brush their teeth properly,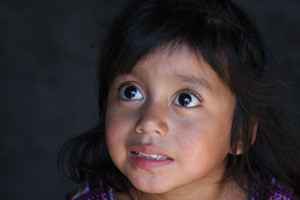 wash their hands and given everything they needed to do the same. Again, there were two translations that had to occur in some cases. But, it was amazing how many people sat and listened. It was like they were hearing how to do it for the first time.
At the end of the day, we were able to treat nearly 240 people today. More importantly, hundreds more people heard the Gospel. Many children came to the clinic without their parents. We couldn't treat them, but we could treat their souls and we did. Pray that God will move in their hearts.